LOVE OF THE GAME
Jason Kidd's story is a lesson in patience, proof that good things truly do come to those who wait.
Jason embodied the qualities of a Hall of Fame player throughout the course of his NBA career. He is fiercely competitive; he is devoted to playing perfect team basketball; he is a tireless worker and student of the game, meticulously professional in everything he does on the court. Every team he has ever played for has been dramatically more successful after his arrival, and dramatically less so after his departure.
But for 16 years on the court, J-Kidd's work went without the ultimate prize: a NBA title. It wasn't for lack of trying. Jason had led his team to the postseason in 14 of those 16 years. He twice took a Nets team that was considered an also-ran before his arrival to the NBA Finals, coming up just games short of a ring.
In his life, J-Kidd learned many things from his dad, Steve Kidd, but paramount among them was to stay the course and remain patient, as Jason told the San Jose Mercury News:
"With my dad, (winning a championship) was the No. 1 thing. Talking with him when I was younger, or seeing him on the road while playing in the NBA, I always told him we were going to win a championship here soon. I think he agreed. I also think he was willing to be honest about the fact that there are some better teams out there than you.

"But to take this long, I think he would probably tell me, 'The thing I've always told you was you have to be patient. It doesn't always happen when you think it will.' He always told me it doesn't happen when you want it to happen, but it will."
In 2011, it finally happened for Jason Kidd. No. 2 and the Mavericks put together one of the more memorable runs in NBA playoff history. Dallas dug deep to beat the Blazers, then swept the defending champion Lakers. They battled at the OK corral and finally fanned the flames of the Heat to become the last team standing. All Jason's hard work paid off when on June 12, 2011 he hoisted the Larry O'Brien NBA championship trophy, the ultimate piece of excellence in a surefire Hall-of-Fame career.
Jason embodied the qualities of a Hall of Fame player throughout the course of his NBA career. He is fiercely competitive; he is devoted to playing perfect team basketball; he is a tireless worker and student of the game, meticulously professional in everything he does on the court. Every team he has ever played for has been dramatically more successful after his arrival, and dramatically less so after his departure.
But for 16 years on the court, J-Kidd's work went without the ultimate prize: a NBA title. It wasn't for lack of trying. Jason had led his team to the postseason in 14 of those 16 years. He twice took a Nets team that was considered an also-ran before his arrival to the NBA Finals, coming up just games short of a ring.
In his life, J-Kidd learned many things from his dad, Steve Kidd, but paramount among them was to stay the course and remain patient, as Jason told the San Jose Mercury News:
"With my dad, (winning a championship) was the No. 1 thing. Talking with him when I was younger, or seeing him on the road while playing in the NBA, I always told him we were going to win a championship here soon. I think he agreed. I also think he was willing to be honest about the fact that there are some better teams out there than you.
"But to take this long, I think he would probably tell me, 'The thing I've always told you was you have to be patient. It doesn't always happen when you think it will.' He always told me it doesn't happen when you want it to happen, but it will."
In 2011, it finally happened for Jason Kidd. No. 2 and the Mavericks put together one of the more memorable runs in NBA playoff history. Dallas dug deep to beat the Blazers, then swept the defending champion Lakers. They battled at the OK corral and finally fanned the flames of the Heat to become the last team standing. All Jason's hard work paid off when on June 12, 2011 he hoisted the Larry O'Brien NBA championship trophy, the ultimate piece of excellence in a surefire Hall-of-Fame career.
Certainly Jason's 19-year NBA journey is a example of the value of patience and hard work, of leadership and dignity. But beyond all his attributes, beyond the intangibles that Jason Kidd has exhibited for thousands of hardwood days, he is simply a uniquely talented athlete, blessed with once-in-a-generation court vision that borders on extrasensory perception.
From his youth to the present, Jason has left coaches, teammates, and onlookers awestruck, making the on-court impossible possible, all the while evolving into one of the statesmen and leaders of today's professional game.
With all that Jason has achieved on a basketball court, it seems improbable that he could have accomplished even more off it. He has. One of the most community-oriented players in the NBA, Jason and his foundation have given time and resources generously to support hundreds of causes, literally transforming the lives of thousands of individuals. For Jason – dating back to his rookie season – the ability to give is one of the greatest blessings of his success. As he told CNN then:
"Role model is something that comes with my job description. It's a given that kids will look up to you."
However, it wasn't just kids who looked up to Jason, but players too. So it seemed fitting that just weeks after announcing his retirement from the league after 19 seasons as a player, Jason was back in the game, taking on one of the biggest challenges of his life as a head coach.
Now, nearly two decades after he first captured their imagination, the basketball world is still looking on in wonder at 10-time All-Star, NBA superstar, first ballot hall-of famer, Olympic champion, NBA champion and now NBA head coach, Jason Kidd.
YOUTH
Born in San Francisco, California, on March 23, 1973, to parents Steve and Anne, Jason Frederick Kidd played soccer – not basketball – until he was in the second grade. Shortly after he began playing competitive basketball, however, Jason was mesmerizing anyone who happened to catch a glimpse of him on the court.
His high school basketball coach, Frank LaPorte, saw Jason for the first time at a summer youth basketball tournament. As LaPorte told the San Francisco Chronicle in 1991:
"He did some things out there even that amazed (college) coaches," LaPorte said. "One approached me and wondered if he was a junior (in high school). I said, 'No he's a freshman.' Everybody knew. As an eighth-grader, Jason Kidd was the talk of the town."
Another of Jason's admirers was none other than Gary Payton. Five years Jason's senior, Payton hailed from the same Oakland neighborhood, and took the young prodigy under his wing.
"Jason grew up just playing on the basketball courts," Payton recalled yesterday. "But he didn't know nothing about going to playgrounds, where a lot of guys are going to talk trash to him, challenge his manhood and things like that."

"We started going to places where people are really rough and play physical basketball and talk a lot of smack. He didn't ever know nothing about that. He was always in a gym where the guys didn't come from streets or anything like that."

"As soon as he started playing that way and starting changing his game, he started getting a lot of heart and a lot of courage."
Emulating Payton and Magic Johnson – his childhood idol – Jason's legend grew. By the time Jason reached his junior year at St. Joseph High School in Alameda, California, he was a national sensation. He took St. Joseph to two straight state championships and accumulated a host of honors in his senior year: the Naismith Award as nation's top high school player as a senior, averaging 25.0 points, 10.0 assists, 7.0 rebounds and 7.0 steals, and Parade and USA Today High School Player of the Year.
COLLEGE BOUND
Every major college basketball program in America wanted Jason, who by the end of high school was 6'4" and 200 pounds. The decision came down to two schools: Kansas and the University of California, Berkeley. Jason chose Cal for a simple reason:
"It was a life decision…It came down to staying home and letting my parents see me play like they did in high school."
Cal basketball fans could not have been happier. The year before Jason arrived, the Bears finished 10-18, ninth in the Pacific-10 Conference. At the end of his freshman season, the National Freshman of the Year led California to a 21-9 record – second in the Pac-10 – and the NCAA tournament for only the second time in 30 years. The Bears reached the Sweet Sixteen thanks to two game-winning shots by Jason – the first in Cal's opening round game against LSU, the second against two-time defending champion Duke.
As the St. Louis Post-Dispatch wrote:
Someone dubbed his twisting, last-second layup to beat LSU the "Pretzel Shot."

What about the scrambling layup off his own deflected pass to beat Duke?

"It wasn't the Pretzel Shot," Kidd said. "This one won't have a name."
A year later, in his second and last collegiate season, Jason led Cal back to the NCAA tournament – at that point, the first back-to-back trips since the 1958-59 seasons. He became the first sophomore in the history of the Pac-10 to be named its Player of the Year, and broke Kevin Johnson's records for assists and steals – which he accumulated in four years at California – in only two seasons.
The current California media guide sums up Jason's college legacy:
"Although his Cal career spanned just two seasons, Kidd had perhaps the greatest impact ever on the Cal basketball program."
WELCOME TO THE NBA
Jason was the second overall pick in the 1994 NBA draft, chosen after Purdue's Glenn Robinson and before Duke's Grant Hill by the Dallas Mavericks. His impact was immediate. Dallas was 13-69 in the season before Jason arrived; a year later, the Mavericks finished 36-46. The league, fans and media took notice. At the end of the season, Jason and Hill shared Rookie of the Year honors.
As the Dallas Morning News wrote:
Hill had TV commercials before he ever played an NBA game.

Unlike Kidd, he was born into a wealthy family. And, with two months left in the season, he seemed headed toward a runaway Rookie of the Year victory based on popularity alone.

But voters noted Kidd's late-season surge, as he led Dallas to a 23-game turnaround from last season. Kidd and Hill each received 43 first-place votes. Milwaukee forward Glenn Robinson finished third with 15 first-place votes.

"For me, I just went out there and let my talent and my game speak for itself," Kidd said. "Some people want to do TV commercials and be seen that way, but I thought if I could play well, the writers would vote on talent and not on who's seen."
Now, though, by winning the most prestigious post-season award ever won by a Maverick, Kidd is about to become the most nationally visible Maverick ever.
Jason would remain in Dallas for only one and a half more seasons, however. On December 26, 1996, in a shocking move, the Mavericks traded Jason, Tony Dumas and Loren Meyer to the Phoenix Suns for Sam Cassell, Michael Finley, and A.C. Green.
Dick Motta, Jason's coach for his first two NBA seasons, voiced what many thought at the time:
"I don't know who got the best of it…But usually, when a star is traded, the team that gets the star comes out on top…I had him for two years and I still think he's going to be a star. There are some things he still has to work on, but I do believe he will be a star in this league."
Dallas finished that season 24-58. Phoenix finished 40-42 and reached the postseason.
PHOENIX DAYS
A year after joining the Phoenix Suns, Jason was doing what he had done for every other team he had played for – revitalizing it.
In December of 1997, Phoenix was 47-31, while Dallas was 20-63. Suns coach Danny Ainge told the Fort-Worth Star Telegram that acquiring Jason still one of the most surprising and welcome things to happen to him and his team:
"I'm not saying it was a steal because we hated to give up Michael Finley," Ainge said. "But gosh, any time you can get your hands on a player like Jason Kidd, it's a gift. We unwrap him 82 times a year, and it's just as energetic, exciting and pleasurable every time. "
Phoenix finished the season 56-26, its best record in three years. The Suns would make the playoffs in every one of Jason's five seasons with the franchise, reaching the conference semifinals in 1999-2000, where they fell 4-1 to the eventual league champions, the Los Angeles Lakers.
That season – during which Jason led the NBA in assists – was Jason's best-to-date, and it came on the heels of personal tragedy. As he explained to Sports Illustrated in December of 2000:
His determination to make the most of what he has is also a result of what he has lost. In May 1999, three days after he had hugged his father, Steve, goodbye at the end of a visit to Phoenix, Kidd got a late-night call from his parents' home in Oakland. Steve Kidd, 61, had died of a heart attack. It is no coincidence that Jason has played with a renewed vigor since the loss of his father, that he has stayed even longer after practice… He realizes that it's not the heavy minutes that eventually wear a man down but the wasted ones. "My dad's death made me value things more," Kidd says, "knowing God can take things away from you, just like that."
At the same time, Jason continued to accumulate individual honors, making the NBA All-Star team for the second and third time (1998, 2000) and being named to the NBA All-Defensive team every season. In every year with Phoenix, he ranked in the league's top 10 players in steals.
During the summer of 2000, Jason also enjoyed playing with Team USA in Sydney, helping to bring America its last Olympic gold medal in basketball. One of three team captains, Jason averaged six points and five rebounds, shot 51.6% from the field and 50% from three-point range, and led the squad in assists (4.4) and steals (1.1) per game.
 A HOME IN JERSEY
Despite all his success both in the NBA and as an Olympian, for the second time in his career, Jason was the center of another sudden blockbuster trade. During the summer of 2001, Jason was sent to the New Jersey Nets for Stephon Marbury.
Even in print, New Jersey president Rod Thorn's enthusiasm was evident. As he told the New York Times:
"He's a four-time All-Star, all-N.B.A. first team. Stephon is a terrific player. Kidd is a passer, defender, rebounder, and the type of player that I think the places he's been, he tends to make other players better."
Shortly after joining the Nets, Jason made a bold prediction: New Jersey, winners of 26 games in 2000-01, would win at least 40 games.
"Hopefully, I haven't put too much pressure on Rod Thorn and Byron Scott," he said.
Jason's prediction fell woefully short of what New Jersey would actually accomplish in the coming year. The basketball world saw precisely how misguided the Kidd-Marbury trade was when Phoenix played New Jersey on December 6, 2001. The Nets won, 106-87, and they did it on the back of 13 assists from their new point guard.
As Scott told New York Newsday:
"It was a great, great win for our guys. We love having Jason here. He's turned our team around."
Jason completed resurrected the wayward Nets, taking the same team from a season earlier, leading it to a 52-30 record, and propelling it inconceivably into the NBA Finals. Then teammate Kenyon Martin said that all praise was due to Jason's leadership. As he told Newsday:
"Jason is the one who gave us the confidence to know [the end of the game] belongs to us…Good teams play their best when they need to. When we are in a tough position, we don't panic."
Thorn spoke glowingly of his superstar's abilities.
"Jason's not a real loud guy," Nets president Rod Thorn said. "He doesn't stand up and give speeches. It's more about how he plays and conducts himself. What he does do is play extremely hard on both ends of the court, which is a tremendous thing for other players to see. When your best player is unselfish and carries himself professionally, then most of your other players will, too."
Individually, it was one of the most phenomenal seasons of Jason's career. He finished with a league-high 171 steals, ranked an NBA fourth-best in assists per game, and finished second to Tim Duncan in the MVP race.
Still, even Jason was amazed by what New Jersey had accomplished.
"If somebody was to tell me after I got traded that I was going to be in the Finals, I would have thought they were just as crazy as when they traded me…We kind of pushed the envelope farther than anybody would have expected."
On the eve of New Jersey's Finals showdown against the Los Angeles Lakers, David Steele of the San Francisco Chronicle did a thorough job assessing Jason's impact on the Nets that inaugural season, and placing his career in context:
Kidd's departure from the Suns last summer made no basketball sense…the basketball world's response to the deal, which was repeated by [Kobe] Bryant on Tuesday: "What in the world is Phoenix doing?"
What the Suns were doing with Kidd, in their defense, was losing in the first round, four times in five years. The top-heavy Western Conference deserves more of the blame for that than Kidd does. Still, not even the comparative weakness of the East can dilute the feat of overcoming the Nets' wretched legacy. Any doubts about whether Kidd could translate his gifts into a championship, or anything close, are gone. This has been a transformation and a validation.
New Jersey would lose to Los Angeles in five games, but Jason status as one the greatest point guards and floor leaders in NBA history was firmly established – particularly when he led the Nets back to the NBA Finals a year later. Unfortunately, Jason and New Jersey fell again, 4-2, to the San Antonio Spurs.
Jason would lead New Jersey to the playoffs in every year that followed, reaching the conference semi-finals three more times. He would also be named to the NBA's All-Defensive First or Second Team for six straight seasons.
COMING FULL CIRCLE
In February of 2008, Jason and Malik Allen were traded to the Dallas Mavericks for Devin Harris, Trenton Hassell, Keith Van Horn, DeSagana Diop and Maurice Ager. Unlike the departure from his previous two franchises, Jason left New Jersey on amicable terms, with both parties ready for a change.
The return to Dallas marked another opportunity for Jason to win a championship, and to end his career where it began. As the Dallas Morning News reported:
Kidd has been handed the quarterback role by a franchise that blew a 2-0 lead in the 2006 NBA Finals then suffered a historic first-round ouster after winning 67 games last season. This franchise's expectation level and Kidd's charge could not be clearer.

"In Jersey, I tried to help show those guys how to win. Once they believed, that was it."
In Dallas, they believed from the start. Jason joined perennial All-Star Dirk Nowitzki on a loaded Mavericks roster and expectations were sky high from the jump. So high, that they seemed almost unattainable. The Mavs consistently won 50 games per year, but when the playoffs came along, things went awry.
Three years into Jason's return to Big D, the Mavs had advanced out of the first round of the postseason just once. Even in that season, 2008-2009 when they reached the Western semifinals, they fell in just five games to Denver. But Dallas stayed the course and owner Mark Cuban remained committed to the cause adding pieces to make the team more complete.
Meanwhile, Jason added something to his game as well. Late during his time in New Jersey, J-Kidd began working with a shooting coach to try to attain an effective three-point jump shot. He had noticed teams sagging off him when he had the ball and understood that in order to keep defenses honest, he had to add to his repertoire.
"You're never too young or too old to always improve your game," he said. "For me at 38, I've always felt that I had to improve my shooting if I want to be on the floor and help my teammates out. As I've gotten older, it's just about timing, and not so much scoring 20 points or having 15 assists or 10 rebounds. It's just being at the right place at the right time, and feeling that your teammates believe in you."
In his first half season back in Dallas (29 games), J-Kidd shot 46 percent from deep. He made 40 percent of his treys the following year and then a career high 42.5 in 2009-2010. Jason thanks shooting coach Bob Thate for helping him a new facet to extend his career.
"I think he plays a big reason why I'm still playing," he told NBA.com. "If I wanted to continue to keep playing, I had to make shots from behind that line," And so we started working extremely hard on the three-point shot and just shooting in general. But when I was in Jersey, we sat down and talked about it."
In 2011, Jason passed Dale Ellis and Peja Stojakovic to move into third on the NBA's all-time list of three-pointers made.
FINALLY
The Mavs pieced together another 50-win season in 2011 and entered the postseason as the three-seed in the West. Many pundits predicted another first round exit, but to Jason, from the start of the year, the aura around the team felt different.
They overcame adversity at every turn, dealing with injuries to top-scorers Dirk Nowitzki and Caron Butler in the regular season and Jason believes that experience prepared them to face more obstacles in the postseason.
"I think just going through the journey of those injuries made us a better team, because we had to do a lineup change…and we didn't skip a beat. We just kept playing. That just shows the character of this team."
In the first round of the playoffs, the Mavs took a 2-0 series lead, only to surrender it over the next two in Portland. After Dallas blew a 24-point lead in Game 4, the series was tied at two.
"We have to stay together," Jason pleaded to his teammates after the Game 4 loss. "Then we just have to finish."
The Mavs regrouped and won the next two games to advance to the next round and a showdown with the Los Angeles Lakers.
In that series, Jason took on the task of guarding Lakers star Kobe Bryant down the stretch in games and managed to limit the LA scorer's options.
"All I know is I said, 'I'll guard him' and I wanted to make it tough," Kidd said. "I'm a competitor. And maybe being old, too, maybe I'm hard-headed and naive enough to think I can slow him down."
But Jason did slow Kobe and all at once the Lakers' three-year run came to a halt as J-Kidd and the Mavs swept LA out of the playoffs. Dallas moved on to the West Finals where they would face a young Oklahoma City Thunder team. After splitting the first two games, the Mavs won the next three to advance to the NBA Finals. Jason came up big in games three and four, including a tie-breaking triple in overtime, which sealed a game four win.
"On our team he's a superstar. That's how important he is to us," Mavericks coach Rick Carlisle said of J-Kidd. "He has the ability to process situations at a different and at a higher level than a lot of us. It's part of his genius as a player and as a leader."
The Mavericks advanced to the Finals for the first time since 2006 to face LeBron James, Dwayne Wade and the Miami Heat. The series was a slugfest from the outset with Miami taking game one. The Heat seemed well on their way to taking a 2-0 lead in the series when they went up by 15 points in the fourth quarter of Game 2. But the resilient Mavs found another way to comeback and turned the series around.
"When we looked at each other and we found a way to win, being down 15," No. 2 said. "We were in that same boat in the Oklahoma series. We were in the same boat in the Portland series, where — actually, we were in that same situation in every series we were in. Portland we give up the 23-point lead and lose, and we looked at each other and said that can't happen again. And so L.A. Game 1 we're down 16 or 15 and we find a way to win that. So I think we were a little bit comfortable playing from behind."
The Mavs won two of the next three games and entered Game 6 in Miami with a two chances to close. But all J-Kidd and company needed was one, as they finished the Heat in six to claim the NBA crown. Jason told ESPN Radio New York's Mike Lupica that the journey was well worth it:
"This is what I put the uniform on for is to try to win a championship. You start in October and the journey will take you up-and-down and sometimes it'll make yourself question what I am still doing playing? Cause I don't think it's going to happen, but that's the time you have to dig deeper and work harder and that's what I did this season."
Following the championship run, Jason made it clear that he has no plans to hang up his sneakers and the Mavericks were happy to have him back in the chase for another championship.
"Jason Kidd's DNA is all over this thing," coach Carlisle said of the title. "You don't see some of the gaudy statistics in terms of points scored or things like that, but the way he has facilitated our team on the court with his leadership ability, his knowledge of our team, the example he sets by playing with a certain level of intensity…on the other hand he's extremely cool under pressure.

"He is one of the all-time greats. There is absolutely no question about it. For Jason Kidd, this moment completely validates his career as being one of those super-super-super-superstars."
A BITE FROM THE BIG APPLE
Jason spent the following year in Dallas, where a run at back-to-back titles ended abruptly in a four-game first-round sweep at the hands of the same Oklahoma City team the Mavs had beaten in five in the Western Conference Finals one-year earlier.
After the season, J-Kidd had to decide where to continue his long, illustrious NBA career. While Jason mulled a contract offer from Dallas to return to the Mavs, he received an offer from the New York Knicks he just couldn't pass up.
Jason's decision to sign with the Knicks came as a surprise to the sports world, but Jason joined New York because he believed they offered the best chance for him to add another NBA championship to his legacy.
"This is a great opportunity for me to help the Knicks win. Our goal is to try and win a championship." he said. "Looking at the roster, it's a no brainer that they have multiple pieces and the right coach. The history here is so deep and when you talk about the best place to play in the world – it's the Garden."
In Jason's lone year with the Knicks, he helped the franchise reach new heights while instilling some of his leadership principles in his teammates. With J-Kidd running the point as both a starter and a reserve, New York won 50 games for the first time since the 1999-2000 season and their first Atlantic Division crown since the 1993-94 season.
Perhaps Jason's most memorable moment of his only season with the Knicks came at the arena he will be calling home as a coach. In a tightly contested crosstown battle between the Knicks and Nets, Jason, who had missed the first meeting between two teams — a Nets win — due to injury, hit a three-pointer with 24 seconds left to break a 97-97 tie and lead his Knicks to a huge win just over a month into the season.
However, as coach Mike Woodson noted, the most valuable thing Jason brought to the Knicks was not something that could be quantified statistically.
"Veteran leadership on and off the court was a huge factor for our team that recorded 54 victories and an Atlantic Division crown," Knicks coach Mike Woodson said. "Jason provided an incredible voice inside our locker room and I considered it an honor to say I coached him.
In the postseason, the Knicks got over another hurdle that had long haunted the franchise, win New York's first playoff series win since 2000, a four games to two victory over the Boston Celtics.
The Knicks fell short of their goal of a championship in the next round, losing the Eastern Conference Semifinals in six games to the Indiana Pacers. Jason took a few weeks after that loss to think and decided that after 19 years and 1,549 games in the NBA, it was time to hang it up.
"My time in professional basketball has been an incredible journey, but one that must come to an end after 19 years," he said. "As I reflect on my time with the four teams I represented in the NBA, I look back fondly at every season and thank each and every one of my teammates and coaches that joined me on the court."
He ended a surefire Hall of Fame career sixth all-time in regular season games played at 1,391, second all-time in assists and steals at 12,091 and 2,684 respectively, and third all-time in three-pointers made at 1,988. And despite scoring being secondary among his tasks, he's well into the Top 100 in all-time NBA scorers at 71st with 17,529 points. Among the accolades he earned, Jason was a 10-time NBA All-Star, a five-time First Team All-NBA selection and a four-time First Team All-Defense selection.
A NEW CHALLENGE
Though his playing days were over, Jason had not lost the itch for basketball. After announcing his retirement, his agent Jeff Schwartz asked him what was next. The two discussed his options, and when the prospect of coaching came up, it was noted that the Nets — perhaps the team Jason had helped the most in his Hall of Fame career — were looking for a new head man.
He interviewed for the job and just nine days after announcing his retirement as a player, Jason Kidd was named the 18th coach of the Nets. Jason acknowledged that jumping into a new role without experience wouldn't be easy, but said it was a task he'd meet head on.
"I'm a rookie. I go from being one of the oldest guys in the league to being a rookie coach. I'm very excited about this challenge," he said. "This is a tremendous opportunity to be named head coach of the Brooklyn Nets, and it's a role I have been studying for over the course of my playing days," Jason said. "Championship teams are built on being prepared, playing unselfishly and being held accountable, and that's how I expect to coach this basketball team. I am truly excited about this next phase of my basketball career."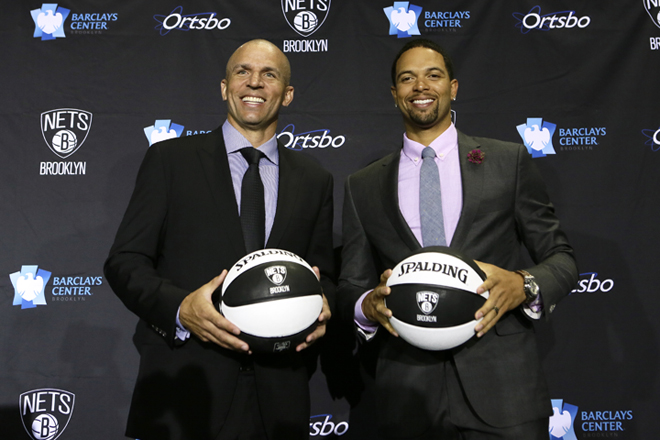 Jason's career as a coach got off to a rocky start as a Nets team that was attempting to integrate several new pieces and gel in a short period of time, had trouble finding the cohesiveness necessary to compete at a high level. The Nets lost 21 of their first 31 games and came perilously close to falling out of contention.
But through it all, Jason's faith in his team and himself never wavered. Reflecting on the season after it was over, J-Kidd noted that Brooklyn's rough start was one of the biggest tests of his career.
"How do you respond when things don't go well?" Kidd asked. "We got to find out right off the bat. I wouldn't panic."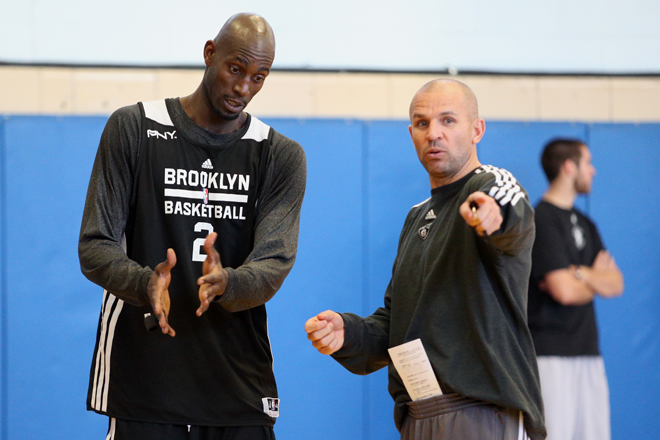 As if they'd hit the rest button on the season, things got better for Brooklyn just as a new calendar year began on January 2. In a sign of things to come, Coach Kidd's squad showed resilience and heart in a come-from-behind 95-93 victory over the Thunder in Oklahoma City, capped by a buzzer beater from star swingman Joe Johnson.
With his players finally healthy, J-Kidd showed his true chops as a coach in January, coaching the Nets to wins in 10 of their 13 games over the course of the month. For his efforts, Jason was awarded Coach of the Month by the NBA. Upon learning of the recognition. Coach Kidd modestly downplayed his role in the team's success.
"I think it's a great honor for guys in that locker room because they've been playing at a high level," he said of the award.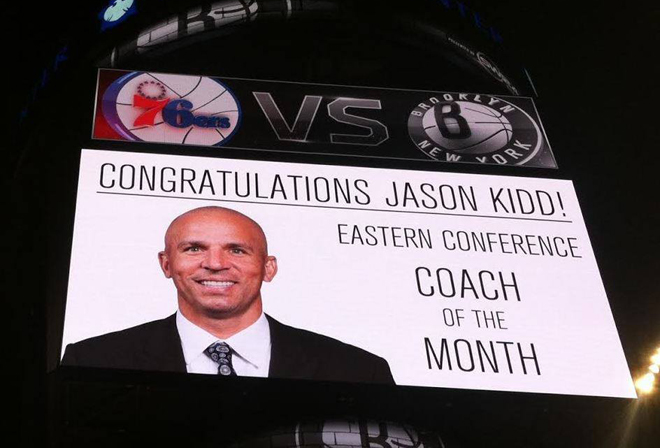 The Nets continued to roll in February and climbed within striking of distance of the .500 mark and playoff contention as the calendar turned to March. It was in the third month of the new year that the Nets were perhaps at their peak. Brooklyn went a 12-4 record in March, including a perfect mark of 9-0 at the Barclays Center, setting a new franchise best mark for consecutive wins at home that eventually stopped at 15 in early April. Brooklyn was strong on the road in March as well, highlighted by a 107-104 overtime victory on March 27 — Jason's birthday — in his Dallas homecoming. Afterward, Coach Kidd lauded his team for their effort to fight back and beat the Mavs.
"We found ourselves winning a ballgame that maybe in 2013 we would have lost," he said.
At the end of March, the NBA once again recognized Jason with the Coach of the Month accolade for his continued success. He became just the second rookie coach in NBA history to win the award twice in one season, joining Chicago's Tom Thibodeau. On the same day he received that honor, Coach Kidd's team gave him a much more meaningful reward with a 105-96 win over the Houston Rockets at the Barclays Center that clinched Brooklyn's spot in the postseason.
"That's something that we felt we could accomplish as a team," Coach Kidd said after the victory. "Unfortunately we didn't start off well and some people didn't believe it, but we just stayed the course."
Brooklyn ended up as the sixth seed in the Eastern Conference and drew a first round matchup with Atlantic Division Champion Toronto Raptors. The Nets used the playoff experience held by Coach Kidd and veterans like Paul Pierce and Kevin Garnett to their advantage in what ended up being a knock-down, drag-out seven game battle with the Raptors.
Led by Pierce's late-game heroics and some lock down defense, they stole Game 1 at the Air Canada Centre in Toronto, 87-84, a critical way to start the series, marking Jason's first playoff win as a coach.
"Playoff basketball is about getting stops at crucial times in the game," Coach Kidd said of his team's defense down the stretch. "Everybody helped one another, trying to take away the three, understanding that they have guys who can put the ball on the floor and get to the basket. Our team defense of helping one another was big tonight to give us a chance to win on the road."
The Raptors earned a split at home with a Game 2 win, and although the Nets won Game 3 on their home floor, Toronto stole home court advantage back with a Game 4 win in Brooklyn, sending the series back to Toronto tied 2-2. The Raptors made the most of their hometown favor by winning a 115-113 Game 5 thriller that suddenly pushed Brooklyn to the brink of elimination.
Still there was no panic in Coach Kidd's style and his team's performance over the next two games reflected that. In Game 6, Jason's squad dug deep and dismantled the Raptors 97-83 in Brooklyn to even the series and force a Game 7 in Toronto. Two days later, Jason became the first rookie head coach to win a Game 7 on the road, when his Nets outlasted the Raptors 104-103.
The win set up a second round matchup against the two-time defending NBA champion Miami Heat, and Brooklyn's season came to an abrupt end as they picked up just one win over the Heat in the series and were ousted in five. Still, Jason reflected on the season with no regrets, able to look back and take pride in the way he and his team overcame adversity to prosper in his rookie year as a coach.
"My first year as a coach, there were a lot of unknowns, so understanding that going in, with the staff and the players I had, I couldn't ask for a better situation. I'm happy that my first year as a coach to have been with those guys in that locker room," he said. "It was a great learning experience. I have a great staff and great guys in that locker room to be able to coach and be around, so it was a fantastic year."
STARTING OVER IN MILWAUKEE
The 2014-15 season would prove to be Jason's only one as coach of the Nets.
A sequence of offseason events in Brooklyn led the Nets to negotiate a trade of Coach Kidd's rights to the Milwaukee Bucks, whose new ownership group included Jason's long-time friend Marc Lasry.
On July 2, 2014 Jason was introduced as the 14th head coach of the Milwaukee Bucks, a franchise with a storied history in need of help to rebuild and return to the glory days of their past success.
"For our organization, to be able to get someone like Jason is phenomenal," Lasry said. "We're really excited to have Jason be our coach."

"Our number one goal when we bought the team was to hire people to run it that know what they're doing," co-owner Wes Edens explained. "Jason is a person I've admired as a player for a long time. Being a New Yorker, he did a great job managing the Nets this year and we think he is the best young coaching talent in basketball.  We couldn't be more excited about that."
At his introductory press conference, Jason expressed gratitude towards the Milwaukee organization and his plans to make the Bucks a competitive NBA franchise.
"I would like to thank Wes and Mark for giving me this opportunity," he said. "I'm very excited to be here in Milwaukee and to be a part of a young, talented roster… This is a family and I'm just very happy to be welcomed into this family. I'm looking for very good things to come in the future, but also today. This is about the Milwaukee Bucks and I'm very happy for this opportunity."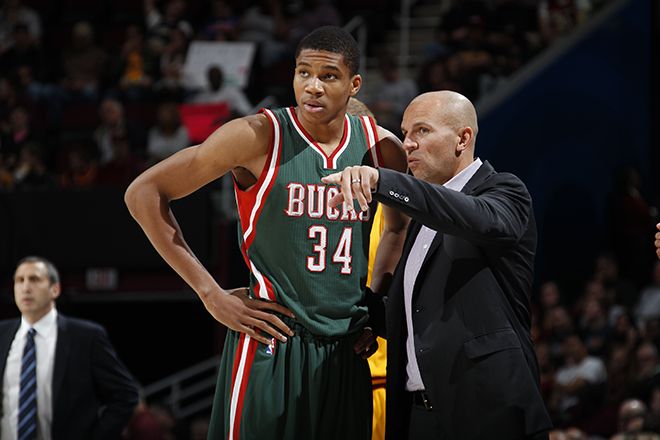 Jason knows he will have his work cut out for him, as he attempts to become the fifth coach in Milwaukee history to earn and maintain a winning record, and he'll be doing so with a much younger team in a much smaller market with different resources than he left in Brooklyn. But Jason made a point to note that what the game of basketball boils down to has little to do with the size of the market they play in.
"It's not about the market it's about being able to teach. I have a great opportunity in Milwaukee with a young roster. I've played in small markets and I've played in big markets. Basketball is inside the arena. It doesn't matter what market you're in. It's about wins and losses and that's the way I approach it," Coach Kidd said. "Milwaukee has a lot of great things to sell. I think it's the talent and being able to win a championship."
YEAR 1 IN MILWAUKEE
The Milwaukee Bucks were an instant success in J-Kidd's first year at the helm.
Milwaukee stumbled to the NBA's worst record: 15-67 the year before Jason arrived, but he brought them straight to the playoffs. The Bucks turned it right around, going 41-41 to earn the No. 6 seed in the Eastern Conference. The Bucks faced a tough first-round matchup against an experienced Chicago Bulls squad and went down 3-0.
But with things looking grim, J-Kidd's group battled, winning back-to-back games, including one at Chicago's United Center to bring the series back to 3-2. Unfortunately, the Bulls took Game 6, ending Milwaukee's run. But overall, Jason saw Year 1 as a tremendous success.
"My thought after the game was I wanted to congratulate the guys on a great year," J-Kidd said. "Not just a great series, but a great year for putting themselves in this position. The second (thing) is to learn from this situation and use it….I don't want to say for motivation for the summer, but for them to get better because they're not a secret anymore and they've got to get better if they want to compete against the best."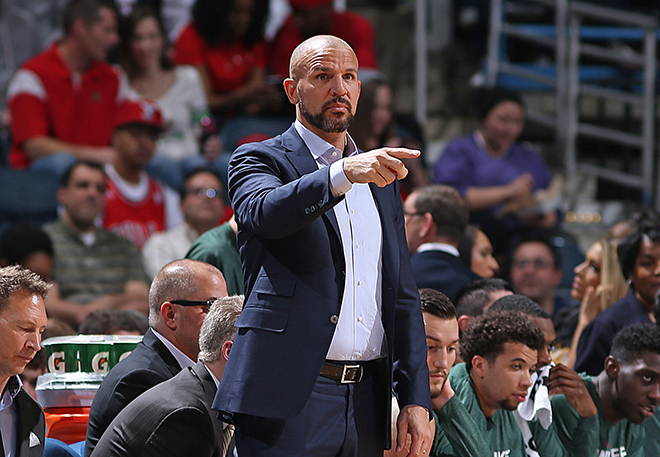 The Bucks were competitive all year long, playing to a 10-7 record to open the year. That early stretch included some big wins over the Oklahoma City Thunder, Memphis Grizzlies and Miami Heat. Jabari Parker was out to a fantastic start for his career after being drafted No. 2 overall, averaging more than 12 points and five rebounds per game—but in his 25th professional outing, he tore his ACL, marking an early end to his rookie campaign.
"Jabari was playing at a very high level for us," Jason said after the injury. "I thought he was doing everything as a rookie, being able to play both ends and help the team win."
With Jabari out, Khris Middleton came into his own and established himself as a leader and go-to scorer on the wing. He averaged a career-high 13.4 points per game, racking up several game-winning and clutch shots late for the Bucks.
The Bucks were outstanding in late January and early February. From Jan. 24 to Feb. 20, Milwaukee went 10-2, roaring to a 31-23 record. Late in the year, their youth showed, as they stumbled through March, falling below .500 for the first time since December.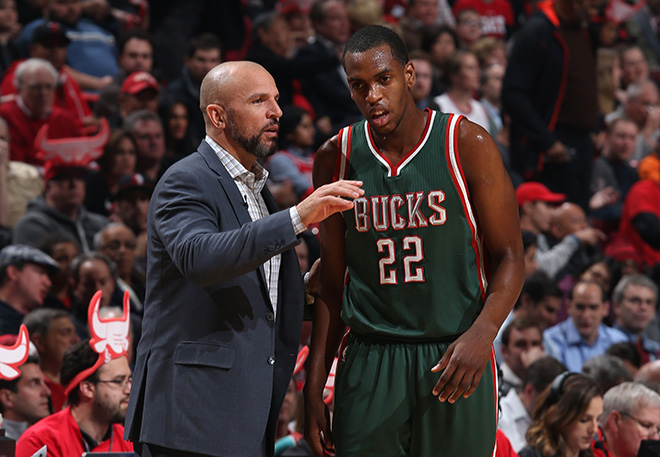 When their playoff lives were in jeopardy—they battled back. The Bucks won back-to-back games over the Heat and the Indiana Pacers, and again over the Bulls and the Boston Celtics. Finally, the Bucks won three out of their last four to finish the season right at .500.
The playoffs brought some thrilling action. The Bucks had beaten the Bulls just once in four meetings during the regular season, and they put up a tremendous fight in the postseason. After a couple of tough losses in Chicago, the series returned to Milwaukee, where the Bucks dropped a double-overtime heartbreaker, putting them on the brink of elimination.
But Jason's squad kept fighting. The Bucks claimed Game 4 on a buzzer-beating layup by Jerryd Bayless. Then Michael Carter-Williams and Middleton combined for 43 points to steal another win in Game 5 on the road.
"You can always talk about the future, but we don't. We don't really understand what the future holds for us. We've got to stay in the present. This is what this team has done all year. They haven't looked at the future. They've just stayed in the present," Jason said. "They've worked their tails off and they've put themselves in this position to make [it] a series."
Unfortunately, the Bucks were left looking forward to the future after a rough Game 6, as the Bulls cruised to a win and sent Milwaukee home for the season. But despite the exit from the playoffs, Jason remained optimistic.
"You look at us right now. … Our core is pretty rich, pretty deep and pretty young," Coach Kidd said. "The future is bright."
YEAR 2: GROWING PAINS
The Milwaukee Bucks made changes during the 2015 offseason, bringing a new logo, color scheme and look to the franchise.
On the court, the young Bucks got younger. They added big man Greg Monroe to the mix, but they also lost a few key veterans off their bench. Bench play was a major strength for the Bucks in 2014-15, but in 2015-16, depth was an issue—also much thanks to injuries. Michael Carter-Williams, Greivis Vasquez, Steve Novak, O.J. Mayo, Jerryd Bayless and John Henson were all out for extended periods of time—and only four players (Antetokounmpo, Monroe, Middleton and Parker) played more than 70 games.
As a result, the Bucks took a step back on paper, finishing the season at 33-49 and out of the playoff conversation. But Jason still saw plenty of progress out of his young group.
"When you look at our year on paper and in the standings, it's easy to just say, 'The Bucks took a step back,'" Jason said. "But from inside our organization, we see things differently. We saw a lot of progress by a talented young team."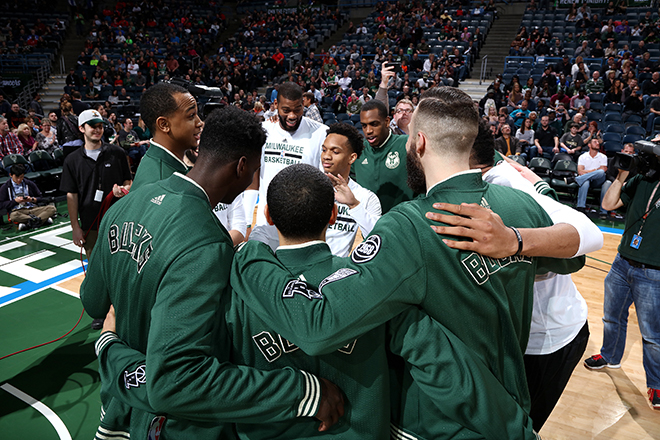 The big four who were able to stay healthy on the court for 70-plus games all had outstanding individual seasons. Giannis Antetokounmpo averaged nearly 17 points and 7.7 rebounds per game and was fourth in the league with five triple-doubles. Parker averaged just over 14 points a game in his first full NBA season. The two players were consistently making highlight reel plays, rocking the rim and getting teammates involved.
Shooting guard Khris Middleton also provided a consistent spark for the Bucks offensively, leading his team with 18 points per game. Numerous injuries forced Jason to swap his lineup regularly. But whether Greg Monroe was starting or coming off the bench, the new Buck always made an impact. The fifth year forward averaged 15.3 points per game and 8.8 rebounds.
While the young Bucks went through some growing pains, Jason had some physical pain to fight through as well. On Dec. 21, Coach Kidd underwent a hip resurfacing operation to repair an injury from his playing days.
"When that happened, pain became the norm. I tried to withstand it, but at a certain point, it just became too much. Once it became a constant and there was no break from it, I couldn't sleep. There wasn't any good position to sleep in. That's when I knew that we needed to address it as soon as possible.

I went to the Hospital for Special Surgery in New York back in late December, and had the surgery done by Dr. Edwin Su, the best hip surgeon in the country. We were lucky to be able to do it when we did, especially with Dr. Su's busy schedule. He went in and did a resurfacing of my hip. To do that, they had to dislocate the hip, trim down the bone and place a metal cap over it. Then they put a metal cup in to connect to it all, and that takes the place of the hip."
With a shiny new hip, Jason returned to the court in January to lead the Bucks once again. Unfortunately, through all the injuries—to coach and player–the Bucks never had the continuity they needed to make a second straight march to the playoffs. But despite a difficult year, things were looking up for the Bucks going into Jason's third year.
"Physically, I feel great. The surgery I had during the season has helped me feel a million times better. It was something that needed to be done when it was done, and Dr. Su did a wonderful job with it. The rehab has been great, so I have had no problems being myself again. With that behind me, I'm ready to continue working toward getting this team better for next year.

We're all thankful for Bucks fans who come out and support us every day. We understand that we fell short of our goal, but we will come back better from our experience this past season. We look forward to having you out there at the arena cheering us on.

Just because we didn't attain our goal last year doesn't change anything. We're still reaching for that ultimate goal, and that's first to make it to the playoffs next season, so we can all enjoy that and play for that gold trophy. The ultimate goal is to win a championship, and we're going to do everything in our power to win it."